Rhoda Stevenson

DVM Dipl ABVP Avian/Owner and Founder

About Rhoda Stevenson

Dr. Stevenson is a graduate of the University of Florida Veterinary Medical School and has practiced in Jacksonville for over 20 years. She is board certified by the American Board of Veterinary Practitioners in avian specialty and has owned and operated the Exotic Bird Hospital since 1995, where over 10,000 patients were seen last year.

Rhoda has written articles for national magazines and presented seminars for international organizations. She is also involved with community education appearing on local television and presenting to schools, libraries and several Florida bird clubs. She has worked with the Jacksonville Zoo, is a member of the Zoo Animal Health Committee, and is a frequent consultant for Marineland.

Rhoda lives in Mandarin with forty birds including pet and aviary birds, and her dog Dillion.

Watch Dr Stevenson in action

Erin Hughes

DVM

About Erin Hughes

Dr. Erin Hughes, graduated from the University of Florida College of Veterinary Medicine in 2012. Originally from Louisiana, she has lived in the Gainesville area for many years and has a Master's Degree in Toxicology also from the University of Florida. She is trained as a large and small animal veterinarian and worked at a mixed animal practice after graduation where she took care of a variety of species from horses to rabbits to a gecko. She worked as a veterinarian at a local humane society where she had the pleasure of helping many animals that would not have had a chance otherwise. Dr. Hughes also works closely with several local rescues including a rabbit rescue.  Dr. Hughes currently lives in Keystone Heights with her husband Rick and a family of horses, donkeys, rabbits, cats and dogs.

Peggy Shashy

DVM

About Peggy Shashy

Peggy Shashy. She graduated from Ross University in 1989 and did her senior year at Oklahoma State University and has practiced in the Jacksonville area for over 20 years. She is a small animal veterinarian with a special interest in exotics. She also rehabilitates all types of wildlife and has worked with BEAKS for over twenty years. She is a volunteer for Pet Amnesty Day at the Jacksonville Zoological Gardens every other year. She is a member of the Florida Veterinary Corps and Florida State Agricultural Response Team whose main purpose is to volunteer as first responders for animal disasters, such as hurricanes. She has 2 dogs, 7 birds and 1 tortoise. She is an avid marathon runner and plans to do all 50 states. She loves to travel to Central and South America to bird watch. She also loves hiking, yoga and the beach.

Dr Shashy in action
ADMINISTRATION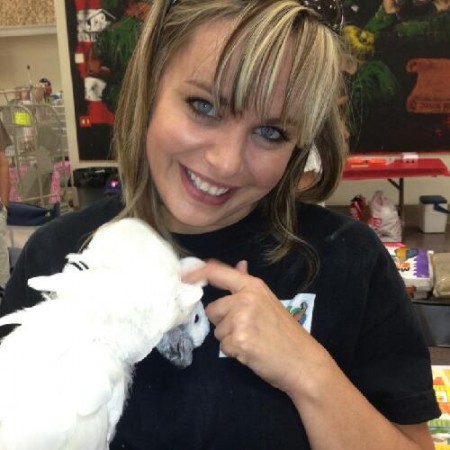 Belinda Gomez
Hospital Director
I Joined the Exotic Bird team in March of 2011. Ever since I can remember I have been drawn animals.  My parents raised me to be kind to animals, but most importantly to help whenever needed.  Growing up with pets and rescuing animals helped me to understand the benefits of the significant bonds formed.  Working for more than a decade in the Veterinary Management field I am passionate about people, and the bond they share with their pet.  My goal is to continue to reach, educate, and empower pet owners in an effort to improve the quality of care their pet receives.  I believe strongly preventative care, and nutrition play a vital role in longevity in all species. When I am not busy working I enjoy spending time camping, or at the ball field with my family.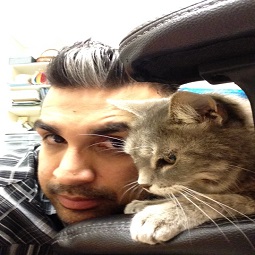 Andres Gomez
Marketing Director
Andres Gomez  joined the Exotic Bird Hospital team in March 2012. He received his degree in Marketing and advertisement . He continues to pursue his passion for business and social media marketing with continued education and certifications. Andres is new to the veterinary industry, however the human pet bond is something he can relate with, growing up with dogs in his family and developed a strong love of animals. In the past he has worked closely with customers and has experience building and maintaining honest, organic relationships with people. When Andres is not in the office he is usually playing sports, traveling or studying marketing. Any comments or suggestions regarding our marketing, APP, website or Social Media, please send him an email.
Front Desk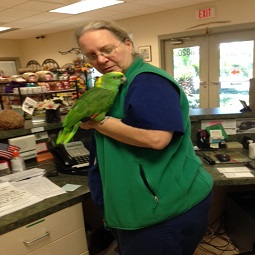 Debbie Bernard
Front Desk
Debbie is a life long resident of Florida, a lover of all animals, but especially cats and horses.  She came to Jacksonville by way of the US Navy.   She has been with Exotic Bird Hospital since 2010.  Debbie works as one of our receptionists and is always happy to schedule appointments, or answer questions when you call.  She loves to greet you when you come for your appointments, and likes to make you feel totally at home, here at our clinic.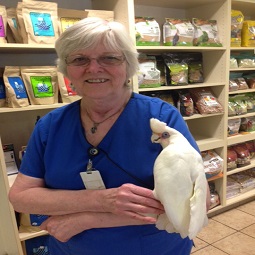 Jean Dale
Front Desk
Jean Dale learned about parrots in 1986: "when my daughter talked me into letting her get a cockatiel.  He was so great, we had to have another bird, and another, and …..  I went from a novice bird owner to breeder and back to pet bird owner over the next 28 years. During that time, I worked for a large bird breeder, Solano creek Aviary, a bird specialty store, Feed, Feather and Farm. Finally in 1999, I came to work with Dr. Stevenson as a veterinary tech. I have 6 birds, ranging in age from 3 to 25 years and 5 cats. I enjoy talking to people and answering their questions, hopefully helping them provide a healthier, and happier life for their birds."
Lead Technician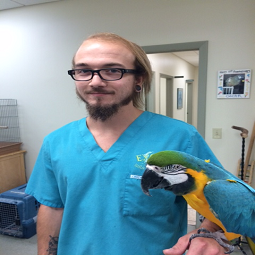 David Flemmer
Lead Technician
I started to work at the hospital back in October 2011. I'm usually working in the back taking care of all of our in house patients but I am also the lead nurse on Fridays and Saturdays so you can also find me trimming birds on those two days. My favorite part of my job is taking care of critical patients and helping them make a full recovery. I also enjoy talking to clients on how to care for their exotic pets and giving them husbandry advise. I have two dogs named Scotch and Fats, a Meyer's parrot named Squeakers and a cockatiel named Nelly.
Lab Technician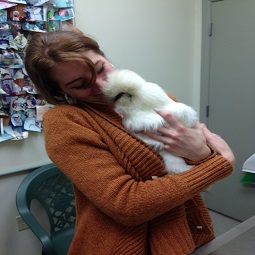 Sarah Zippel
Lab Technician
I Became part of the Exotic bird hospital family in 2011. All I have ever wanted to do since I could talk was to work and be around animals and not just any animals but exotics. I was the little girl who was determined to be the next Steve Irwin or Jeff Corwin. Every creature is important and deserves to be treated as so.This is what I strive to do daily in my personal life as well as work life. Even though they are not every different (: I love helping people understand their exotic pet family members, their behaviors, care, and needs. I strive to learn more each day in hopes to better help those in need.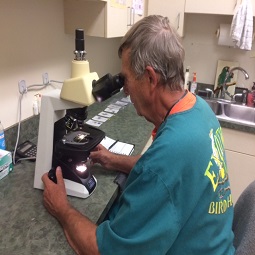 Paul Hamry
Lab Technician
I started working for Dr. Stevenson 12 years ago. I am now retired but love working for the hospital so I only work on the weekends as a lab technician, although you can sometimes find me helping out holding birds for trims. I have 43 birds of my own, 7 chickens, and 4 dogs. On my spare time I like to plant vegetables and cactus, and I have over 200 different types of plants.
Technicians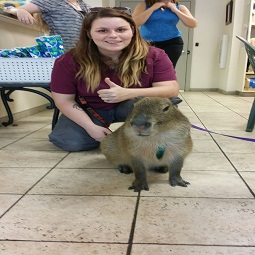 Brynne Williams
Technician
My name is Brynne Williams and I have been surrounded by exotic animals my whole life. I aspire to be a DVM and currently spend a lot of my free time caring for unwanted/handicapped animals if I'm not playing one of my instruments.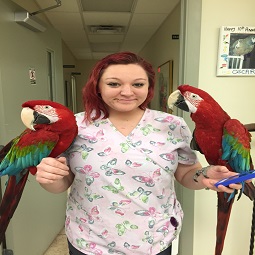 Jessica Serrano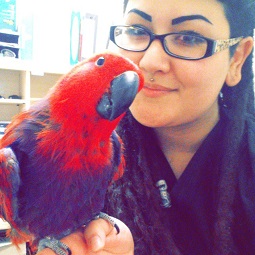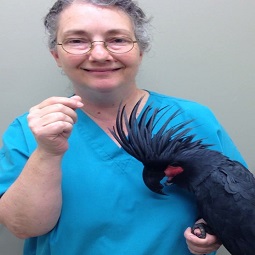 Sheila Webb
Technician
I started working with Dr. Stevenson in 1993 because I have always had pets- birds, dogs, and cats- and loved taking care of them. I'm originally from Illinois and I'm currently married and have two beautiful Irish wolfhounds named Aengus and Fergus. I'm usually the veterinarian technician in the rooms helping the doctors with their patients because it's what I do well and what I love to do.
Mascots